Goose meat croquettes made from airport geese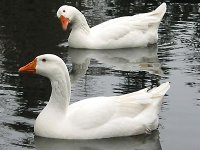 We've written a lot of croquette stories on this blog, made from meat leftovers, questionable vegetarian variants and about general croquette awareness.
A goose meat croquette sounds to me like a Dutch Christmas appetizer or even a fancy French one. However, the geese in question are some of 100.000 geese a year that are shot to stop planes at Schiphol getting geese in their engines.
Beach side café Beach Inn in IJmuiden, North Holland is serving goose meat croquettes made from the geese shot down at Schiphol airport. As I also saw recently on telly, a goose hunter for the airport said catching and releasing would mean hiring an army (they fly back to the airport anyways, a waste of time) and poisoning their eggs is just not done anymore and doesn't really help.
The geese are usually destroyed or sometimes end up in cat food. Rob Hagenouw, an artist from Amsterdam, contacted some hunters, score some goose and worked hard at creating his own recipe. He says that with his croquettes, the flavours really come out.
Eating goose, or turkey for that matter, is not really a Christmas thing in the Netherlands for many reasons. First, many people do not have ovens due to a lack of living space. They have combination microwave and and oven devices that barely fit a decent sized pizza. Second, even if you do have an oven like I do, a goose or turkey won't fit. Guineafowl or chicken is the best you can hope for. Another reason is that it's just not a Dutch tradition to shove a big bird in the oven.
(Link: www.telegraaf.nl)