Dutch prefer to work around 27 hours per week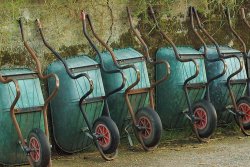 OK, so I am going to throw these numbers at you without any attempt to explain why they are what they are, and without stating whether I think these reflect well or not on Dutch society, as my experience is that people tend to interpret such statistics along political lines anyway, regardless of my interpretations. TNO released a study last week that shows the Dutch would prefer to work somewhere between 25 and 28 hours per week. Earlier studies (Dutch) showed that the Dutch already put in the least amount of hours per week across Europe: 33 hours. A relatively large percentage of the Dutch work part-time (40%), and the Dutch also belong to the Europeans with the most irregular hours.
The Netherlands is also the country where most of the wages are fixed: paying somebody according to how productive they are hardly occurs here. The preferred increase of working hours is a function of the amount of hours a person already works (duh!). Interesting to see in TNO's graph though is that only the more or less unemployed would like to work more, and only those that put in more than 40 hours a week would like to work less. People that work from anywhere between 8 and 40 hours a week seem pretty OK about the time they put in.
The study called Nationale Enquête Arbeidsomstandigheden (National Poll Working Conditions) is a collaboration between TNO and Statistics Netherlands, is repeated each year and involves questioning 25,000 members of the Dutch work force. The European working conditions study over 2007 referred to by Intermediair is fascinating reading.
Via print daily Metro. Photo by Shrekton, some rights reserved.
2 Comments »
Re. increasing working hours without increasing pay:

This proposal doesn't seem to take into account working parents. Day care facilities and after school facilities can be ridiculously expensive, and not everyone qualifies for tax discounts or low-income discounts – so additional childcare costs would wind up being paid for without an increase in personal net income.

If you had to, I'm sure you could come up with other solutions (such as sharing/juggling childcare with the grandparents, other parents or neighbors) but it would certainly raise a threshold.

Comment by lola granola — November 9, 2008 @ 9:52 am

[…] women do not seem to be very interested in having careers, although they do like having the opportunity of having careers. In 2010 the United Nations voted […]

Pingback by 24 oranges » Lack of women in top management roles in the Netherlands — March 9, 2013 @ 2:55 pm