John keeps socks on, gets busted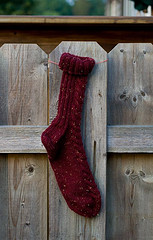 A man got arrested last Sunday after he kept his socks on for sex. The prostitute at the Doubletstraat in The Hague whose services he was availing himself of thought his behaviour was strange and asked him about it—she thought maybe he had cold feet. The man admitted that he was carrying a valuable load of drugs in his socks, and even offered to sell some of it to his supplier of sex. Instead the woman called out to two police officers who were passing through the street and who in turn arrested the man and discovered that indeed, he had hidden "229 drug balls, 32 pony packs cocaine and 2 bags of marijuana" in his socks, according to the Telegraaf (Dutch).
Photo by Lauren Weinhold, some rights reserved. Boy is there a lot of sock porn on Flickr.
2 Comments »
Daar zakken je toch de sokken van af :-D

Comment by Eric — December 2, 2008 @ 3:13 pm