Speak English with Poles, don't bother with Polish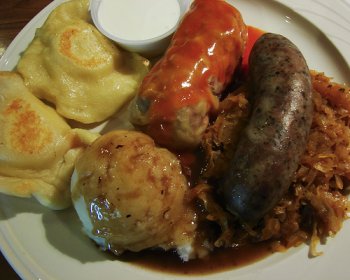 Yesterday on telly (Nova) I saw a report about how Poles were getting on in Rotterdam. Once they showed the Polish food store (ethnic groups are often automatically associated with their food), I watched the rest. What I heard was well educated, normal looking Europeans who just happen to have crappy jobs that apparently pay less than minimum wage in 40% of cases and homes that are overpriced and crowded. As well, some 50% want to stay in the Netherlands because their chances are simply better. Some politicians says this will prepare them for the next wave of Eastern Europeans (Bulgarians and Romanians) who are due to arrive soon. These people are more often than not highly educated, speak several languages and do jobs the Dutch apparently have the luxury to refuse to do. They are not illiterate housewives or too old to integrate.
Then I found this recent article that reads "Poles speak English too well", which is some weird complaint. On telly, they said that many Poles came to the Netherlands from England and Ireland, so it is logical that they speak some English. The article, however, basically points out that setting up Polish lessons for employers (known as reverse integration and highly criticised) is a waste of time if the Poles speak English. The people setting up these courses could have known this if they 1) bothered to get information from the Polish community like the telly did and 2) looked further in Europe than their own miniscule backyard.
And remember, when the Poles do stay they are obliged to learn Dutch anyways, so communication will be even easier! It seems the municipalities and the people setting up courses could use some serious cultural communication lessons themselves. Poles often speak Polish, some Russian and/or German, English and even other languages like French. Ah but learning Polish was a way to make money which backfired big time hence the complaint.
(Link: leeuwardercourant.nl)
4 Comments »