Free bike parking possibly on last legs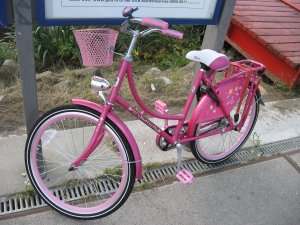 At first, it does sounds like a logical argument. Way back in the day you could park your car for free on the street, but nowadays there are too many cars so you have to pay because space is scarce. In a country with more bikes than people, bike space is becoming scarce and the idea of paying to take up that space is now an issue. Many people already pay to park their bikes safely indoors, but parking it unguarded in the rain for money doesn't sound like a good deal at all.
Back in 2004, a huge bike flat was built at Amsterdam Central Station as a temporary solution to all the bikes cluttering the station area. If there's one thing I learned about Dutch 'street furniture' is that temporary things become permanent very quickly. According to mimoa.eu, the 'flat' was supposed to be torn down in 2006, which was later pushed backed to 2009. It's of course still there and it's fuller than ever. One of the reasons it is full is because many people leave their bikes for a longer period of time or ditch their bikes there altogether, a national problem. If people were to pay, this would probably not happen as often.
However, the day has come where the idea of paying to park your bike could just be a few years away. Apparently, 40% of people bike to the train station, making the upkeep of bike parking spaces costly. There are all kinds of arguments against paying to park your bike, such as people turning to their cars to get to the train station, causing even more traffic, the environment (bike vs. car), the logisitics nightmare of it all and hiring people to fine cyclists who park their bikes illegally.
(Link: parool.nl)
2 Comments »
Ow my, unbelievable there is no regulation for this obvious problem yet….
I think what we really need to regulate here in Holland is regulating itself.

[…] the bike racks in and around train stations are in the Netherlands, in January there were talks of charging people to park their bikes in Amsterdam. Bike racks are usually full, and if you try and park your bike somewhere else, big […]

Pingback by 24 oranges » A new type of modular bike rack — February 11, 2010 @ 12:04 pm