Film theatre computer divulges personal data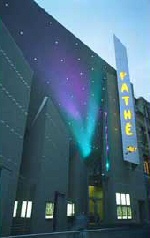 A ticket machine at the Pathé De Munt film theatre in Amsterdam offered access to a list of online reservations for 2008, including the names of people who had reserved tickets online. According to Bright.nl, Reinder Rustema discovered this during the holidays when he walked along the ticket machine in the Pathé De Munt film theatre and saw that the Windows trash can was displayed on screen. "Through the trash can I was able to browse and look through the entire system (…). Finally, I saw a file called presales.xls (…) that I could open in Wordpad and there they were: all of the online reservations of 2008." Bright.nl is still waiting for a response from the film theatre.
And yes it's a big deal because it's a breach of privacy and most probably illegal. Someone will surely explain it to us all here.
(Link: bright.nl, Photo: film.ziggo.nl)
No Comments »
No comments yet.