Jules Verne for free in e-book form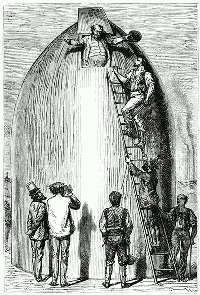 A couple of years ago a Project Gutenberg volunteer called Jeroen Hellingman managed to buy 25 public domain versions of Dutch translations of Jules Verne's 54 "Voyages extraordinaires." These books are working their way slowly through the Distributed Proofreaders digitization process and have started to appear at the other end, at gutenberg.org. The most recent Dutch Verne adventures posted there are:
Wonderlijke avonturen van een Chinees, followed by Muiterij aan boord der 'Bounty'
De wonderstraal, followed by Tien uren op jacht
De Reis naar de Maan in 28 dagen en 12 uren
The last two titles have excerpts in my latest (third) Nederlandse Project Gutenberg Reader, which also contains snippets from the Dutch translation of Harriet Beecher Stowe's Uncle Tom's Cabin, Couperus' Reis-impressies en Jan en Florence, Cyriël Buysse's De vrolijke tocht, Guido Gezelle's Laatste Verzen and Johanna van Woude's Een verlaten post.
If you want Verne in another language than Dutch, fret not. After all, the man is the third most translated author in the world (after Walt Disney and Agatha Christie), and Zvi Har'El's Jules Verne Collection has a great number of public domain translations of his works.