More spontaneous street art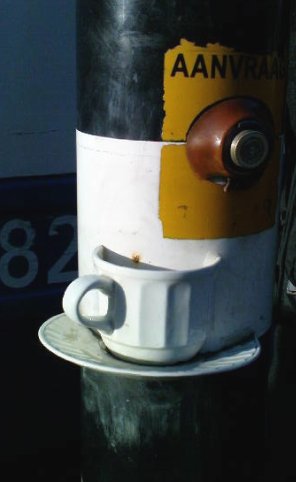 After a tip from Etienne (thanks!), I took the tram to hunt down yet another cup glued to a pole. Since last November, these first cups have been firmly glued to a pole. Now, there's another cup on the other side of the street.
We don't know who or what, but will there be more? Stay tuned!
3 Comments »
I often like half a spot of tea while I'm waiting for the light.

Comment by Neil — January 15, 2009 @ 3:16 pm

Coffee Cup Art…

Photo from 24 oranges
Check out this cool piece of disruptive realism in the Netherlands. I'll be visiting the Hague in two weeks, so maybe I'll have see some more Dutch street to post about.
Via 24 oranges
……

Tazas como Arte Urbano…

Los holandeses de Amsterdam deben pulsar el botón del semáforo para cruzar la calle pero, si se despistan, quizás presionen una taza en su lugar. Sí, una taza partida por la mitad y pegada con pegamento al semáforo es el modo de expresarse de un a…

Trackback by meneame.net — January 21, 2009 @ 11:29 am