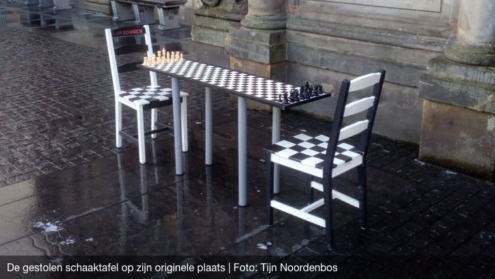 Delft artist Tijn Noordenbos produces art for public spaces, and admits he's used to some of his artworks disappearing. However, the city of Delft trashing his socially-distanced chess table and chairs came as a bit of a surprise.
Around New Year's Eve, the city of Delft, South Holland picked up the artwork, looking for stuff they could burn. The idea was to get rid of anything that could be set on fire before New Year's Eve, owing to the fact that fireworks had been banned and people would set (and did set) other stuff on fire.
Noordenbos is not upset, and is already working on a giant Scrabble board, with letters that will be 60 x 60 cm. He hasn't asked the city permission, which is why his artworks sometimes disappear. It's part of the game.
And he's never been fined for leaving his art lying around. His two dolls in the city centre's Binnenwatersloot have been there for two years, illegally, and have not been removed.
You win some, you lose some.
(Link and photo: omroepwest.nl)