Proud of what exactly?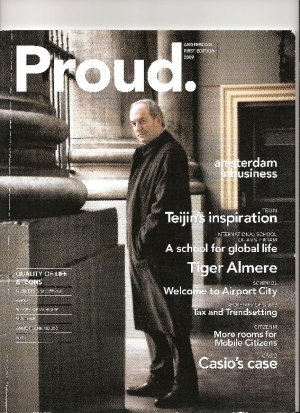 Let's start on the positive side: Job Cohen, the laidback mayor of Amsterdam on the cover, is popular in a good way, here and abroad. But I'm shaking my head at this new magazine's cover. I collected some opinions to make sure I wasn't reading too much into it.
Robin Pascoe over at Dutchnews wonders if anyone at city council realises that 'proud' means 'gay', and that this magazine with Cohen looking like a dirty old man in a rain coat is not exactly the way to sell Amsterdam as a hot business location. I totally agree, and to make sure we weren't both reading too much into it, I asked gay Amsterdam politician Laurent Chambon what he thought. He said that it means gay to him straight off, while his partner peeking over his shoulder simply said "really scary". I also asked Dutch journalist Jeroen Mirck, and he didn't see the problem at all, except for the dirty old man disposition, of course. Let's remember that this is an English-language magazine aimed at foreigners, but made by Dutch people.
Besides the gay thing (the Mayor is hetero by the way) and the flasher styling, there's another questionable layer of meaning to using the word 'proud' as of late. It denotes the serious rise in populism plaguing the country. Nowadays, when the Dutch media talks about being proud of being Dutch for example, it automatically excludes any kind of foreigner. There's even a new populist if not racist political party that has the word "trots" (proud) in their name.
I just don't get the whole idea of the name. When you're proud, you shouldn't have to push it, just like when you're cool.
(Tip: Dutchnews.nl)
6 Comments »