Don't eat bulbs, warns supermarket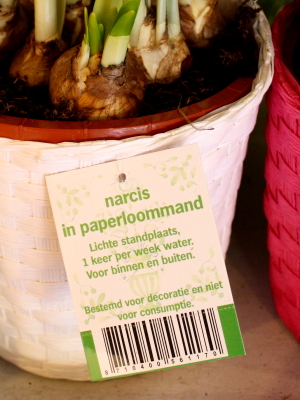 This is one of those inside-the-asylum moments: Supermarket Albert Heijn sells baskets with flower bulbs, and at the bottom it says: "For decorative purposes only, do not eat."
Inside-the-asylum moment? A reference to the late Douglas Adams' Hitchhiker's Guide to the Galaxy books, in which one Wonko the Sane explains why the rest of us are living at the funny farm:
The sign read:

"Hold stick near center of its length. Moisten pointed end in mouth. Insert in tooth space, blunt end next to gum. Use gentle in-out motion."

"It seemed to me," said Wonko the Sane, "that any civilization that had so far lost its head as to need to include a set of detailed instructions for use in a package of toothpicks, was no longer a civilization in which I could live and stay sane."
This is why he built himself a house that's 'outside' the asylum.
7 Comments »