'Hooligan' banned for a year from long track speed skating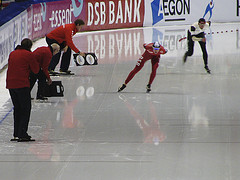 The ever so sedate world of long track speed skating was rudely torn from its mid-winter slumber last weekend when a man walked onto the ice during the world cup races in Heerenveen, Friesland.
And no, that's not some kind of strange and poetic metaphor. According to Algemeen Dagblad (Dutch), a man in a bear suit walked onto the 400 metre track where at other times athletes quietly and with purpose skate countless 30 second laps. The man was promptly banned from visiting the Thialf stadium for a year.
3FM DJs Coen and Sander managed to get the fiend on their show. The man called Oscar stated that he wouldn't want to visit Thialf ever again anyway. Sander Lantinga then gave him some tips on how to disturb future sports events–after all, the DJ himself has been banned for life from attending the 'Wimbledon' tennis tournament after streaking (NSFW) the Maria Sjarapova vs. Jelena Dementjeva match in 2006.
I've been watching long track speed skating all my life. (Yes, this is our particular drug, don't laugh, it could be worse. The Dutch could be enjoying curling or cricket instead.) And I just cannot remember how walking onto the ice was ever such a taboo. The ring is usually crowded with coaches, officials, athletes and anybody who has managed to obtain a pass. The coaches and athletes are even on the track during races. And after a particularly exciting race, the Thialf audience shower their heroes and the track with fluffy toy animals.
But then again, I don't think anyone ever tried to join that elite clique wearing a bear suit. That must have kindled some kind of racial memory in the otherwise stoic Frisians, and they responded with fervour. They banned the bear for a year.
AD also reports (Dutch) that if you really want to get close to your skating heroes, there are other ways. The only sky box in Thialf is not leased to the local money, but is open to anyone willing to fork over the 150 or so euro it takes for a day. In exchange you get food, drinks, entertainment and the occasional photo op with passing sports celebrities.
Photo by Hans Splinter, some rights reserved.
No Comments »
No comments yet.