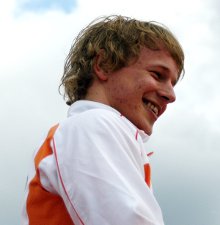 At the London Summer Olympics on 7 August 2012, horizontal bar gymnast Epke Zonderland won gold with a breathtaking routine featuring three aerial elements, the now world famous 'Cassina-Kovacs-Kolman' combo.
He's back in training and — you guessed it — he's added a fourth element, the Gaylord II, to his super combo. Zonderland talked about it on television very modestly as he has a long way to go to get it down pat. From what the news reports, it's the Cassina and the Kolman that are the most difficult.
Zonderland does Cassina-Kovacs-Kolman-Gaylord II. Kicks in at about 0:55.
(Links: nos.nl, www.sportnext.nl, Photo by McSmit, some rights reserved)
Tags: Epke Zonderland, gymnastics, Heerenveen