Lively and functional furniture for tight spots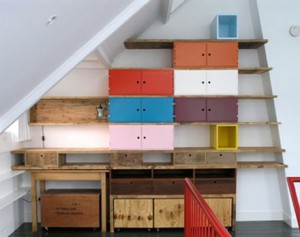 These handcrafted cabinets were designed by Dutch designer Ellen Seegers of BeeldenBouwers. The design company, founded with Arno Tummers back in 1999, creates unique objects for the home together and individually.
Oh the left hand-side, next to the blue cabinet a swing lamp can be pulled out. A lot of Dutch houses throughout the country have these pointy roofs that make it tough for any standard furniture to fit.
(Link: apartmenttherapy.com)