ATM use on Sunday banned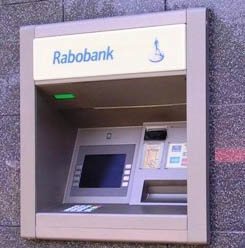 The War on fun and practicality strikes again — and punishes old people. In the wee town of Scherpenisse, Zeeland, the ATM shuts down on Saturday night because the owner of the building is a Reformed Protestant. This means that Sunday is the day of the Lord and "taking out money is absurd." The Rabobank, who operates the ATM, considers its machines open for business seven days a week.
The talk of the town is whether the owner can actually keep shutting the ATM down on Sunday, which makes life harder for old people.
(Link: blikopnieuws.nl, Photo: cwi.nl)
No Comments »
No comments yet.