Ring your bells later, father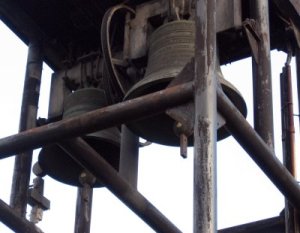 Way back in August and December 2007, we posted about a Tilburg pastor who rang his church bells way too early and who got fined for doing so.
And since I love a good trinity, the city council has now ruled that the bells can only be rung after 7:30 am.
Priest Harm Schilder claimed the right to call the faithful to prayer as part of religious freedom. OK, but city council thinks the neighbours have a right to be woken up with their own alarm clocks at a time of their choice.
(Link: dutchnews.nl, Photo: bells, Valkenburg, Limburg)
1 Comment »
[…] posted about Priest Harm Schilder from Tilburg who had bell ringing issues a few times, attempting to defy the law using freedom of religion as an […]

Pingback by 24 oranges » Bell ringing pastor now calls lost sheep up — January 8, 2013 @ 12:04 pm