Ring my bell no more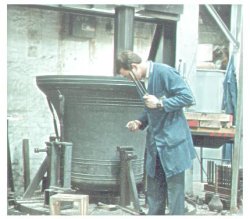 Pastor Harm Schilder of the Heilige Margarita Maria church parish in Tilburg was fined 5,000 big ones (euro) today and already another 5,000 big ones last Friday because his bell rings too loud. Too loud means 80 decibels instead of 70 decibels, which in laymen's terms is the difference between a car and a noisy factory. Nevertheless, when the bell hits you very early at 7:15 am, I can imagine it's loud.
The pastor was told by his boss the bishop not to ring the bell until they get the volume fixed. Stay tuned until next Friday.
(Link: Omroep Brabant)
2 Comments »
[…] pastor who got into trouble with worldly powers for trying to gather his congregation at mass by ringing his church bells at ungodly hours? Well, he's back in the news. Pending the outcome of the lawsuit the board of his church […]

Pingback by 24 oranges » Pastor claims late bell ringing has halved attendance — October 15, 2007 @ 12:40 am

[…] Way back in August and December 2007, we posted about a Tilburg pastor who rang his church bells way too early and who got fined for doing so. […]

Pingback by 24 oranges » Ring your bells later, father — January 10, 2011 @ 9:30 pm