New cartoon blog by Bandirah and others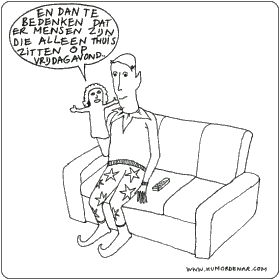 May 1 was the day Robert Schuit started a new cartoon blog at—guess where?—cartoon.blog.nl. Schuit, who draws cartoons himself under the name Bandirah, managed to convince a jolly band of artists to join him, among which 'big' names such as Argibald, Michiel van de Pol and Humor de Nar (illustration).
24 Oranges started more than 2 years ago with an entry about the new cartoon blog clogwork.net, which is still alive and populated by the slightly older cartoonist.
(Illustration: cartoon.blog.nl, by Humor de Nar. Caption: "To think there are people who spend their Friday nights all alone." Link: Sargasso.)
No Comments »
No comments yet.