Biggest carpaccio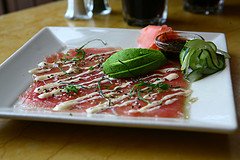 Restaurant De Lakei from Kaatsheuvel, Noord Brabant, has made the biggest carpaccio in the world last Sunday.
So claim Brabants Dagblad (Dutch) and various other publications who all seem to be based on this Hart van Nederland broadcast (Dutch, about 10:45 minutes in—here's the stream link for those allergic to Windows Media Player). The attempt took place in the old fire station and the record claim was verified by an unnamed notary in jeans and a light brown jacket. The proceeds went to a good cause.
(Photo of a totally unrelated plate of carpaccio by Flickr user highlimitzz, some rights reserved.)
No Comments »
No comments yet.