Museums open doors to photo contest for Wikipedia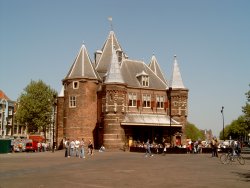 De Waag Society and a bunch of other friends of digital culture have organized a photo competition called Wiki Loves Art (Dutch), which will take place during the entire month of June in which museums will open their doors to amateur photographers. The photos which must accompanied by a Creative Commons by-sa license before you can enter them will be used as illustrations for Wikipedia. A great initiative!
Apparently museums have historically frowned upon people taking photos of their prized possessions—officially because of all kinds of nonsensical reasons such as that flash might scare the objects, but the unofficial reason is that photos of their art on of mugs and posters is a significant source of income, on which the museums would like to maintain a monopoly. But now, some of them have decided to open up their doors to amateur photographers, so that Wikipedia, which traditionally has been a victim of the no photo policy, can start to illustrate its articles.
Prizes, apart from the warm glowing feeling you get when helping Wikipedia, include 500 euro to be spent on photographic equipment. Some of the participating museums include the Van Gogh in Amsterdam, the Van Abbe in Eindhoven, the Gemeentemuseum in Den Haag (lots of yummy Mondriaan), the Naturalis in Leiden, NAI in Rotterdam, the Rijksmuseum van Oudheden in Delft, and the list goes on. Earlier similar contests were held in the US and the UK.
(Link: Bright.nl (Dutch). Photo of the Waag building in Amsterdam by Michiel Verbeek, some rights reserved.)