Car thieves try to escape by swimming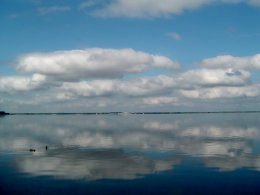 Two suspected car thieves were caught yesterday when they tried to escape their pursuers by swimming from the province of Gelderland to the province of Flevoland across the 500-meter-wide Nuldernauw.
At 9:15 am police noticed a stolen car on the A28 motorway, but drivers got wind of smokey bear and put the pedal to the metal. Near the town of Horst, the stolen car hit the shoulder at high speed and careened into some trees 30 metres off the road. When the police got there, they found that the driver and his partner in crime had fled the scene towards the nearby water.
A little later, the police discovered the men in the water, swimming towards Flevoland. When two officers dived in to continue pursuit, the suspects turned around and themselves in. The men were taken to a hospital for hypothermia. The police will question them as soon as possible.
(Via Politie Noord en Oost Gelderland, via Telegraaf, Photo looking across the nearby Wolderwijd from Harderwijk to Zeewolde, Flevoland, by Sjaak Kempe, some rights reserved. The Nuldernauw is to the left.)
No Comments »
No comments yet.