Three treasures discovered in same month in same city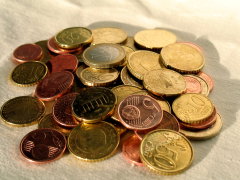 Last month, three coin treasures were found in Groningen during archaeological digs. Don't get all excited though, as a coin treasure is defined as anything over five coins, or as Blackadder character Baldrick would have it, some coins. The biggest find was a collection of half-stuivers, stuivers and double stuivers (a stuiver is the Dutch equivalent of a shilling or a nickel) in a jar, estimated to be worth three monthly salaries at the time they were minted, reports Blik op Nieuws (Dutch).
So who gets the loot? After a find of celtic silver and gold coins near Maastricht two years ago, archaeologist Wim Dijkman of the city of Maastricht told Z24 (Dutch): "According to the law, half of the estimated value goes to the owner of the land, the other half to the finder. Since this find has become an official one, the finder is the city of Maastricht." That find was estimated to be worth several hundred thousand euro, and since Maastricht wanted to keep the coins for its own collection, it had to pay the land-owners from its own purse.
(By the way, the coins in the picture were found in my own wallet and are not an official treasure.)