Trading private parking spaces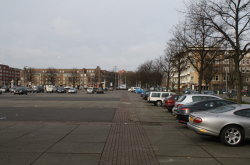 In such a densely populated country as the Netherlands, it may appear strange that many private parking spaces are empty during the day, when their owners are off to work. Wannapark.nl tries to fill this 'gap in the market,' as the Dutch say, by bringing together the owners of both cars and private parking spaces.
A quick look at the Amsterdam section of the website shows that the recently started company hasn't attracted many users yet—although to be fair, there is fairly little usable private parking space in Amsterdam. The spaces on offer in the old docklands, on IJburg and in West all seem to be in the parking garages of new buildings, with spaces smack in the city center going for 300 euro a month.
(Via press release aggregator Dagelinks.nl.)
No Comments »
No comments yet.