Man dies during Dutch 'RIAA' raid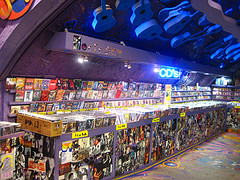 Anti-'piracy' bureau BREIN, the Dutch equivalent of the infamous RIAA, scored its first kill last Saturday. Literally, I am afraid. During a raid on a market in Beverwijk, a 47-year-old man from Waalwijk accosted by the raiders died of a heart attack, reports Blik op Nieuws (Dutch). The police were presumably testing that the requisite taxes on empty CDs and DVDs had been paid, and were accompanied by a posse consisting of people from the FIOD (tax police) and the Thuiskopie and BREIN foundations.
Interestingly, the story of the police and of witnesses differ substantially, writes Noordhollands Dagblad (Dutch). According to the former, the man had a heart attack after running away from the merry band of official and self-appointed copyright hunters, after which the police tried to administer first aid. Witnesses however claim that the man did not run away, and that everybody just stood there, without helping the victim.
You have to wonder why private organizations like BREIN are even allowed to accompany the police on raids like this.
(Photo by Flickr user Sheep Purple, some rights reserved.)