Stedelijk Museum gets American woman as director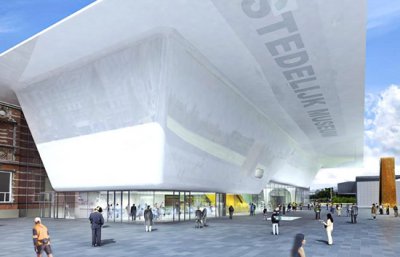 Only because the word 'director' doesn't cover gender in English, did I use the word 'woman'. In Dutch, 'directrice' (female director) is seen as a lesser choice of 'directeur' (male director) and not appreciated, while the French 'directrice', where the Dutch word comes from, is perfectly fine. And now, the news.
Ann Goldstein, an American, will be the first foreigner and first woman to head the Amsterdam Stedelijk Museum in its 114 year history when it will reopen in the spring of 2010. Goldstein is currently the senior curator at the Museum of Contemporary Art (MoCa) in Los Angeles where she has worked for 25 years.
Gys van Tuyl, the current artistic director of the Stedelijk Museum says that the MoCa is a model institute that feels closer to the Stedelijk than the MoMA in New York. He also mentions that the Museum of Modern Art in New York (MoMA) has shown many of Goldstein's touring exhibitions, which "says a lot, because the MoMA basically doesn't take shows from others."
Read more about all the bits of the Stedelijk Museum being exhibited throughout the city in the meantime.
(Link: rnw.nl, Photo: designboom.com)
No Comments »
No comments yet.