Writer Simon Vinkenoog dies age 80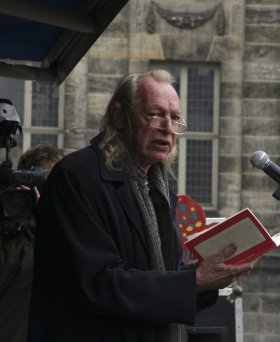 A week before his 81st birthday, writer Simon Vinkenoog died of a cerebral hemorrhage in Amsterdam last night. Vinkenoog was a poet, a writer of novels, and a strong proponent of the legalization of soft drugs. In 2004, when poet laureate Gerrit Komrij prematurely handed in his resignation, Vinkenoog was elected to serve the interim, until Driek van Wissen could take over.
Here is my pathetic attempt at translating one of the poems Vinkenoog wrote while in office:
Pamphlet or quick prayer,*
love poem or protest song,
provided it is experienced,
grows wings, becomes redemption.
Once doom makes room
— for courage,
everything you do
becomes a living greeting:
"All that moves
will stay in motion
Make or break
— there is no choice
Nothing remains,
everything will disappear
your life a fireworks
or not."
*) Note from the translator: what, no word for schietgebed (emergency prayer) in the English language?!
(Photo: Martijn S., some rights reserved, photo 'shopped by me.)