Portable ice bath on Tour a Dutch thing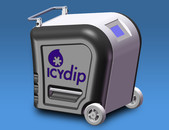 It's a day of rest for the Tour de France and a good time for us to find a Dutch angle to it. Dutch cyclist Niki Terpstra of Team Milram tells us of a cool way to freshen up and feel better after a long day of cycling: sitting in a plastic dustbin with ice water, designed by Icysolutions, a Dutch company. The 'Icydip' was thought up by two former students of the Delft University of Technology, Hicham Shatou and Tarek Ghobar.
You can watch this promotional video to see it properly or a shaky video in Dutch with Niki Terpstra (scroll down a bit), or both.
(Explanation with English subtitles starts at 0:45, albeit with football players)
(Link: bizz.nl, Photo: icysolutions)