Carel Struycken's spherical panorama photography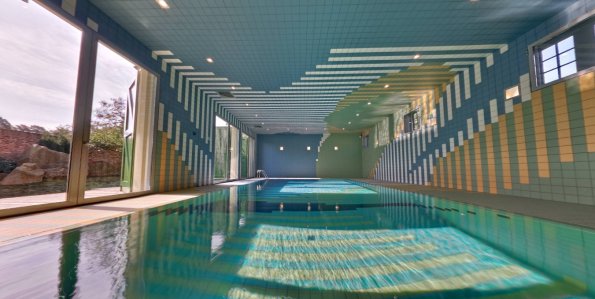 Carel who? Well, only the most famous Dutch actor bar none.
You may not recognise his name, but you will surely recognize the characters he played: Lurch in the Addams Family films, the butler in The Witches of Eastwick, Star Trek TNG's Mr. Homn, the Giant in Twin Peaks, and so on. He's played countless roles in high profile films and TV series such as Men in Black, St.Elsewhere, and Babylon 5, where he is easily recognized because of his large-looking face. (Wikipedia says he's exceedingly tall at 2.10 metres, but that's only tallish for a Dutchman.)
But apart from appearing in almost every major Hollywood production, Struycken spends a large chunk of his time making spherical panoramas—that is to say, panorama photos that can be viewed in any direction—in the US, on Curaçao, and in the Netherlands and Germany. I seem to remember from an earlier visit to his website that the crop above is of a panorama photo from an indoor swimming pool somewhere in the Netherlands, but Struycken keeps track of his panoramas in at least three different places, and I could not find metadata for this one in any of them.
(Source photo: www.sphericalpanoramas.com. Carel Struycken's IMDB page)