Cross-border speeding: Dutch cash in on Belgians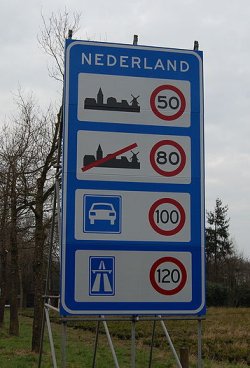 Down South in soft-spoken Maastricht, Limburg, the police raked in a cool EUR 2.5 million from Belgians caught for traffic violations last year, 37,417 of which were speeding violations.
And what about the Dutch on the Belgian side? An estimated 15,000 Dutch people brought in EUR 1.5 million according to the Belgian newspaper Het Laatste Nieuws, which is a lot less.
The amusing part is that Belgian Limburg has twice as many speed cameras as Dutch Limburg (Yes, both countries share the name of a province).
As an exercise in pure unfounded speculation, the Belgians have more physical room to get their motors going whereas in the Netherlands you'll miss four exits if you bat your eyelids too long. Germans often get caught speeding into the Netherlands because slowing down is not fun and takes time. When you're going a roaring 220 km for like an hour (been there, done that, yes it sucks petrol fast), slowing down to 50 km feels like going backwards in time.
(Link: blikopnieuws.nl, Photo by Wikipedia user Naaldenberg, some rights reserved.)
No Comments »
No comments yet.