Roel Smit's 'love-core' catalogue covers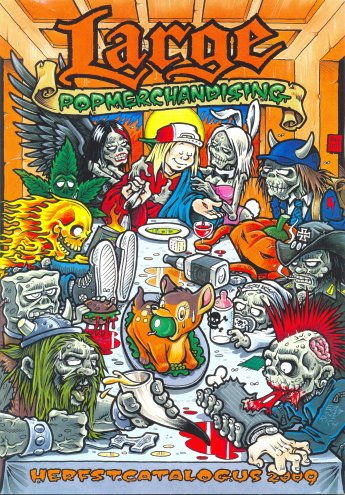 Of all the incorrectly addressed mail I receive, I mind the Large catalogue ("pop merchandising") the least, because it has got Roel Smit's vibrant cartoon art on the cover. Shown here is the latest, the autumn issue.
Frits Jonker, half of the Fool's Gold team, last year reviewed Smit's latest book, Rock 'n' Roel:
There are some of his early drawings in the book, but he became so much better around 1999. Before then, his work was enthusiastic and well done, but, with a few exceptions, not brilliant. After 1999 every drawing is exceptionally powerful and often so good that it makes me wish that I had put more effort into learning how to draw. All his work is centered around one theme: PUNK. Or rather, Roel's version of punk: Love-core, as he calls it.
No Comments »
No comments yet.