Floating apartment building in Westland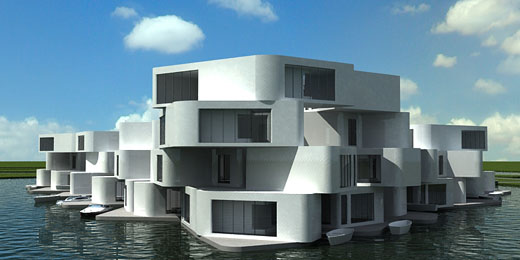 This floating apartment building called Citadel was designed by Waterstudio architects of Rijswijk and will be built in the Nieuwe Water area of the Westland region, West of Rotterdam a municipality in the Western Netherlands.
Westland is mostly known for its greenhouses (see a Google satellite image and you will know what I mean). The Nieuwe Water area (Dutch) is a low point in this polder and therefore suffers minor floodings every time there are heavy rains. New trends in water management have led to the belief that it is good to make room for water, and that is what is being done here.
The Nieuwe Water area West of the town of Naaldwijk, traditionally full of greenhouses, will be flooded artificially, after which houses will be built in it that somehow will have to be able to deal with the fact that the water level can rise up to 36 centimetres, stowing 75 million litres of excess water. Another housing solution by Waterstudio for this area are these stilt houses. The Citadel will have 60 apartments.
Construction of Het Nieuwe Water will start this year.
Update: Orangemaster tells me she translated a good book that can give our readers further insights about the new ways of Dutch water management called Atlas of Dutch Water Cities. A San Franciscan bookstore summarizes it as follows:
Illustrates the relationship between urban development and water engineering, and portrays a vast number of projects integrating the infrastructure of waterways and flood deferences in architectural concepts.
(Source photo: Waterstudio. Link: Trendhunter)
2 Comments »
I'm sorry this hurts my feelings as a Hagenees (born in The Hague:)

(West of Rotterdam? yeah and south of groningen;) strange way of putting it. i think The Hague is a bit closer..

(sorry dutch) "Het Nieuwe Water in het kader van proeftuinen Waterkader Haaglanden"

Comment by marker — September 3, 2009 @ 12:55 am

[…] innovator of hydro cities. He designs houses and buildings that float on water. His design of the Waterstudio's Citadel in Westland Netherlands is a floating complex that has 60 units. The foundation is made of concrete and foam. On top of the […]

Pingback by ClimateYou – Adapting to Climate Change by City Tech Blogger Janatan Ramdeen    — December 23, 2018 @ 4:54 pm