Belgian telecom advert offends the Dutch and Flemish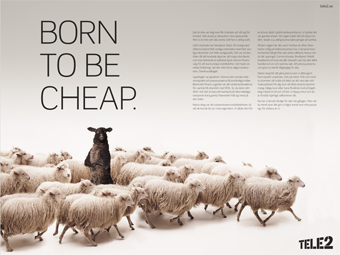 There is no lack of references about Belgians in the Netherlands, often referred to as 'our southern neighbours' by the media. When they do something stupid or brilliant, the media is on the front lines either poking fun at them or praising them for their ingenuity. However, poking fun at people's lesser national traits, albeit a top sport in Europe, is not always appreciated.
The Belgian organisation for ethical advertising (JEP) has reprimanded the new Belgian mobile phone company Vikings because of their questionable slogans. "Gratis is voor Hollanders" ("Free is for Dutch people" – 'Hollanders' is a pet name for the Dutch in Flanders) has the press buzzing. The company's French-language slogan "Gratuit, c'est pour les Flamands" ("Free is for the Flemish") plays on the stereotype of the Flemish being cheap and is not going over well either.
AustralianSwedish telecom provider Tele2 (shown here) has had adverts in the Netherlands for months using the concept of cheapness. The idea here is two-fold: the sheep are a reference to 'being cheap' (the ads in the Netherlands are all in English and subtitled in Dutch) and point out the similarity of the words 'sheep' and 'cheap' with a talking black sheep standing out from the herd. Although boring to look at more than twice on telly, Tele2 is doing it right, while the southern neighbours are doing it wrong.
Why the cheap jokes? The Dutch have a reputation (deserved or not) of going on vacation to France driving through Belgium with their caravans and bringing all their own food to save on costs. The goal is to enjoy the weather.
The Flemish part of Belgium used to be poor and frugal I would imagine. Today the Flemish part of Belgium (including Brussels or not, technically a governmental no man's land) is the most dynamic part and the Walloon part has many economic problems.
(Link: zibb.nl, Photo: pleasecopyme.blogg.se)