Hacking at Random: hackers in the bible belt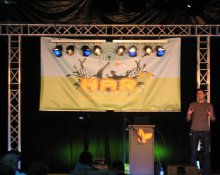 Yesterday was the start of the official, lecture-filled part of Hacking at Random, an episode of a Dutch hackers convention that takes place every four years under a different name and at a different location. This year's HAR is situated at Nunspeet, in the Dutch bible belt, and as always has a strong emphasis on debating the confluence of politics and technology.
Speakers this year include the guy who's getting a camera planted in an empty eye socket, the people who make prostheses for 50 bucks instead of 250,000 (presumably we're not talking about eyes anymore), IP/IT lawyer Arnout Engelfriet, and the infamous BREIN organisation, the Dutch 'RIAA'.
If I have the time, I will report on the activities from the scene of the action in future postings.
1 Comment »
[…] things pressed for your pleasure Older: Hacking at Random: hackers in the bible belt More recent: Digital rights organisation Bits of Freedom restarted [HAR 2009] […]

Pingback by 24 oranges » Connected at last! [HAR 2009] — January 26, 2011 @ 1:37 pm