Lauragate: solo sailing school girl to be tested for two months, says judge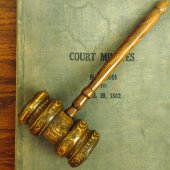 The verdict is in. Laura Dekker, the girl that wants to set a world record by becoming the youngest person to circumnavigate the globe in a sail boat all by herself, will be put under supervision for two months while a psychologist will try and determine whether this 13-year old is fit for that feat.
Dekker's parents will retain custody, but will have to ask permission from supervisor Bureau Jeugdzorg (the executive branch, so to speak, of the child protection industry) for major decisions pertaining her, a Utrecht court ruled today. The judge stated emphatically that Dick Dekker was not a bad father for supporting his daughter's ambitions, reports Volkskrant (Dutch). Amsterdam psychologist S. Moonen will now try and find out whether Laura is mentally fit for such a huge undertaking, and whether it is possible for her to be schooled from a distance.
Laura was not present during the reading of the verdict. She tried to avoid the media, and instead gave an exclusive TV interview to Jeugdjournaal (children's news show of NOS, Dutch). In it she said she was not afraid of the psychological examination, because she would not have gone if she wasn't ready. She also denied reports that claimed she would be alone for two years in a row, explaining she would go to shore regularly, and she would be surrounded by other sailors taking the same routes because of storm seasons and so on. (Not that fellow 'yachties' always stick to the unspoken code of writing poems about flowers and being nice to puppies.)
(Photo by Wikimedia user Jonathunder, some rights reserved)