Unique Jacques Brel photo exhibition in Amsterdam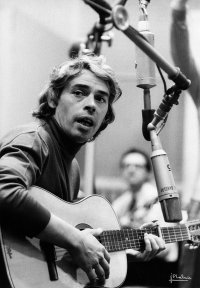 I once read that the cities of Amsterdam, Brussels and Paris made up an interesting cultural triptych, and an upcoming exhibition of Jacques Brel photos entitled 'Le Pont d'Amsterdam' by his official photographer Jean-Pierre Leloir in Amsterdam seems to support this imaginative theory.
Brug 9, a newly opened Amsterdam venue under a canal bridge will be featuring an exclusive, three-day photo exhibition of famous photos of Belgium's iconic singer Jacques Brel, taken by world famous French press photographer Jean-Pierre Leloir opening on October 9. The exhibition will coincidentally feature 31 photos — coincidentally because it's been 31 years since Brel's death on 9 October 1978. Thirty of the pictures are black-and-white, with one colour photo of his last concert.
Rockarchive Amsterdam's Michelle Lemesle, a Parisienne and huge fan of Brel, is supplying the photos for this exhibition. "Jean-Pierre Leloir is the most unknown famous photographer there is and has a huge archive of photos," explains Michelle to anyone who asks when people come to her gallery.
The event is organised by MSTRDM, Alter Fritz and Rockarchive, with yours truly DJing at the opening.
(Photo: Jean-Pierre Leloir, courtesy of Rockarchive, Amsterdam)