Seal rehabilitation centre needs pools and bathtubs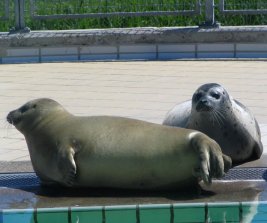 Due to an unexpected rise in beached seals, seal rehabilitation centre Lenie 't Hart in Pieterburen, Groningen has called out for help in the form of bathtubs and pools. Yesterday morning, Radio 538 personality Edwin Evers told listeners to contribute, and so they did.
A spokesowman said that "more than 100 swimming pools and bathtubs were offered to them, even a jacuzzi." The centre can handle about 80 seals a year and at the moment, they have more than 100 seals at one time. I suppose anyone who wants to help after reading this is more than welcome (info in English).
(Link: telegraaf, Photo: Photo of Seals by GerardM. Used under the terms of GNU FDL)
1 Comment »
Just bookmarked you!!

Comment by Lauren Faggins — January 9, 2012 @ 3:39 pm