Merry-go-round coat rack, wool filler, rain barrel win prizes at Design Week '09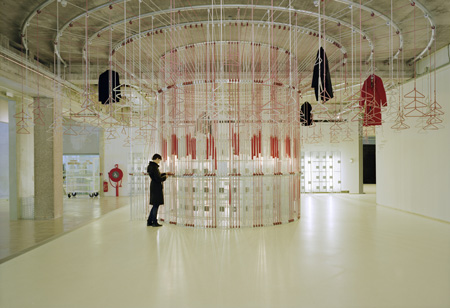 This merry-go-round coat rack by Wieki Somers won the overall prize for the best Dutch design project at the Dutch Design Week 2009. It is already in use at the Museum Boijmans – Van Beuningen in Rotterdam.
Other winners were the rain barrel by Bas van der Veer that we wrote about last week, which won the René Smeets award, the prize for the best project of this year's Design Academy Eindhoven graduates.
Heleen Klop won a Doen Materials Prize of 5,000 euro for coming up with a method to repair holes in wool clothing using felt.
Other interesting designs were those of Digna Kosse, who experimented with how much material you can leave out of a dress and still call it a dress (may be NSFW), and Austrian Eindhoven Design Academy graduate Sonja Bäumel, who experimented with clothes that grow themselves in the areas of the body that most need the warmth by letting bacteria do the heavy lifting.
Dezeen has a lot of write-ups about this years Design Week.
(Source photo: Wieki Somers.)
No Comments »
No comments yet.