Rain barrel with built-in watering can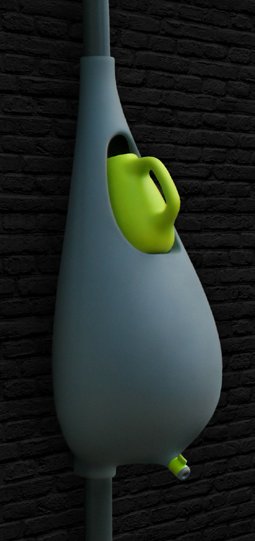 Like the top glass in a pyramid of champagne glasses, the watering can at the top of Bas van der Veer's A Drop of Water is always filled the first, so that a gardener has ready access to rain water for their plants.
Excess water simply flows into the barrel, from where it can be released by a simple tap.
The 24-year-old, 2009 Design Academy Eindhoven graduate will display this project and his Bioplastic Planter at the Dutch Design Week, which starts October 17. According to Bright.nl (Dutch), the young inventor has not yet approached companies to take his designs into production, but he hopes to get a lot of attention during the exhibition where he will be all week.
(Source photo: Bas van der Veer.)