Kees van der Westen's espresso machine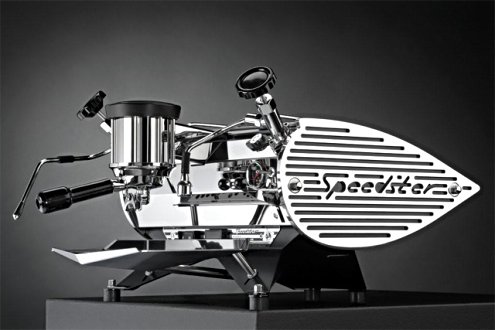 For those who grumbled about my taste in coffee before, here is the other end of the spectrum. Kees van der Westen (first name pronounced like 'Case') from Waalre, Noord-Brabant, has been creating coffee makers since the 1980s. This is one of his latest, the Speedster.
A previous incarnation of the Speedster was made in a limited series of 6, sold to friends and relatives. The price of the current version? A mere 5,000 euro.
We strongly emphasize the need to contact an experienced espresso machine technician locally. The Speedster is a commercial machine that needs to be installed properly. Also for maintenance/service later in its life, a technician who knows espresso machines is essential.
Coffee Geek says, and I paraphrase, that the Speedster is a decent espresso machine. ("Just about perfect," I believe that is their exact wording.)
(Link: Bright. Photo: vanderwesten.com.)
No Comments »
No comments yet.