A red bike that blogs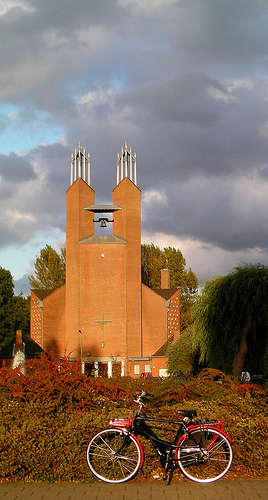 The nice red Dutch bike that could, Drooderfiets, bikes in and around Amsterdam and blogs about its architectural, cultural and interesting findings in English and French. The puppet master is Alix, a French guy living in Amsterdam who takes very nice pictures with his bike in every one.
Disclaimer: I know Alix and I admit we should have written about him and his bike a long time ago. What's nice about this blog is that not only does the red bike learn things, but so do we, Dutch or otherwise.
Check out all kinds of other pictures on the red bike's Flickr page.
(Link: rooderfiets.tumblr.com, Photo of Kruiskerk, Amstelveen by Drooder Fiets)
1 Comment »
Wow! Now I am sure I can say I am famous. Sure I'll get more fans on my facebook page!
http://www.facebook.com/pages/Drooderfiets/111290696004?ref=ts

;-)

Comment by drooderfiets — January 31, 2010 @ 8:08 pm