Inntel Hotel in Zaandam opens its doors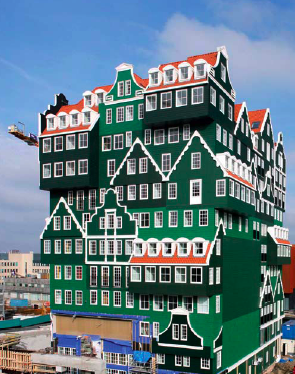 Inntel Hotel in Zaandam was officially opened on 18 March and also has a 'remarkable interior' with old images of the Zaanstreek (Zaandam area). Each hotel room has a theme, such as Verkade (chocolate) or Albert Heyn (supermarket founder), both major brands that come from Zaandam. Other Zaanstreek traits include the use of famous local mustard and dessert with Duyvekater bread, which are local specialities. The stack of houses has four shades of green and one of blue, which can be found traditionally in the area. You really can't miss it.
Four of us from ironically four different countries representing three continents drove by this hotel on the way to Paris at Christmas and collectively freaked out. Just looking at this hotel driving by was enough to have an accident. It could be architectural humour, but we didn't get the joke. We're too poor to stay there anyways, after all we were carpooling.
(Link: missethoreca.nl, Photo: WAM Architecten)