Vote for 50+ hunk of the year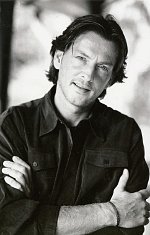 A cosmetics brand is looking for the best looking man of the Netherlands aged 50 or more.
Candidates include actor Tom Hofman, DJ Erik de Zwart (photo) and musician Frank Boeijen. The election is part of a campaign for the brand's line of hair colouring for men.
Voting is simply a matter of studying 10 photos (one per candidate), clicking the Stem (Vote) button, and filling out and submitting your e-mail address.
It is not clear to me when the voting period ends, so vote quickly. The results will be made public at the end of April. According to the website's disclaimer, the cosmetics people may use your e-mail address to spam you, and they will become the owner of everything you send to them, so be careful about what you submit.
(Source photo: Wikimedia Commons)