Shelf space for rent for vanity press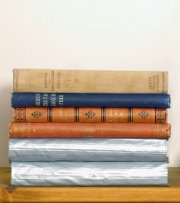 A small book store in Amsterdam offers self-published authors its limited shelf space—for a price.
Boek 'n Plank on the Vijzelstraat lets you rent enough shelf space to pile your books up to 20 centimetres high. You pay 25 euro per six months, and a provision per copy sold. The store's owner, Jolanda Janssen, reserves the right to refuse works she deems morally unacceptable.
The name Boek 'n Plank is a pun. Literally it means 'book a shelf,' but when spoken out loud it sounds the same as boekenplank, book shelf.
(Link: De Pers)
2 Comments »
[…] fie în drum spre Amsterdam, poate vă e de folos să ştiţi că pe Vijzelstraat există o mică librărie în care puteţi găsi cărţi self-published sau, de ce nu, hand-made. Cîteva volume scoase în timp de cîÈ›iva cercetători È™i scriitori de […]

Pingback by Scoops 3 : : Veioza Arte — March 31, 2010 @ 11:39 am

[…] https://www.24oranges.nl/2010/03/24/shelf-space-to-rent-for-vanit… […]

Pingback by Nice Book photos » virtual world — August 14, 2012 @ 5:02 am