Man captured twice on same day for stealing bicycle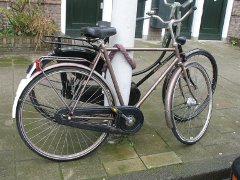 A particularly dumb thief from The Hague was caught twice on the same day last Tuesday for stealing police bait bikes.
When the 35-year-old was released after the first arrest, he walked along the spot in the Wagenaarstraat in The Hague where his first crime had taken place, and, presumably to his great joy, discovered another bicycle just ready for the taking. This bike again turned out to be a bait bicycle.
Telegraaf doesn't say if they also released the man after his second arrest.
No Comments »
No comments yet.