The Starry Night in breakfast cereal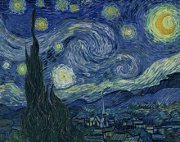 It would seem corn and Van Gogh's The Starry Night are indelibly connected in the American imagination. First Don McLean wrote a popular song about the painting, and now pupils of Sky View high school in Smithfield, USA, have recreated the work in breakfast cereal.
Using the school's gymnasium as a canvas, 150 pupils poured two tons of colourful Malt-O-Meal on the floor to create a 22 x 27 metre masterpiece. The school hopes that this will get students to appreciate art. The project was finished on Saturday and was removed afterwards and fed to pigs.
Fox has photos.