Holocaust survivor finally to receive Dutch apologies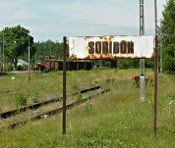 Selma Wijnberg (87) was the only Dutch survivor of the Nazi concentration camp Sobibor, but the Dutch government once almost made sure that even she would not have had that distinction.
Wijnberg managed to escape the death camp in Poland in 1943 and to hide in the countryside. After the war she returned to the Netherlands where she married a fellow escapee, Polish Jew Chaim Engel. Her marriage was reason for the Dutch government to threaten to revoke her Dutch nationality.
Although the government never acted upon its threat, Wijnberg was incensed about her treatment, and emigrated to the US, where she has lived ever since.
Wijnberg's children managed to convince her to return to the Netherlands to attend the commemoration ceremony at Westerbork, a camp in the Netherlands from which Jews were transported to the death camps. At Westerbork Dutch minister Ab Klink will offer Wijnberg apologies on behalf of the Dutch government, according to De Volkskrant.
Many Jews were treated badly by their fellow Dutch countrymen after the war. During the war, 100,000 of the 140,000 Dutch Jews were killed in concentration camps, a percentage only trumped by Poland. The government's policy of storing much information about its citizens enabled the Nazis to efficiently murder as many Jews as possible.
(Photo by Jacques Lahitte, some rights reserved)
2 Comments »
Thank you for writing it as: "death camps IN Poland," as there are too many writers, articles…incorrectly stating that they were Polish Death Camps (which they were NOT) — also, in your article — it is not clear what "a percentage only trumped by Poland." mean — where as I know what it means, but people don't care to understand history. Polish Jews killed exceeded the number of Dutch Jews…

I am glad Selma Wijnberg will return to the NL, and good for the NL to extend an apology. Our landlord's family – whom we lived with for a time in the NL, hid a Jewish man at their farm during WWII.

Comment by eko — April 9, 2010 @ 10:04 pm

[…] Holocaust survivor to receive Dutch apologies (after the death camps we, her own people, bluntly told her she was not welcome in her own country) […]

Pingback by 24 oranges » Branko's favourite stories of 2010 — December 28, 2010 @ 10:19 am