Delft students improve surgery for cross-eyed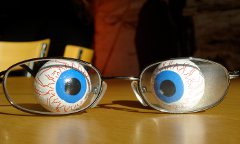 Team Daisy, made up of Elsbeth Geukers and Nicole de Bakker, has won the 2010 Philips Innovation Award with a diagnostic technique that should drastically reduce the amount of operations required to treat strabismus (aka "cross-eyed") in young children.
One of the problems that apparently plague doctors when trying to measure the angle of 'crossed' eyes is that young children do not sit still enough for an accurate measurement. Sprout.nl claims that this can lead to a failure rate of the operations of up to 50%.
The technique developed by the TU Delft students will simply measure from different angles simultaneously.
Earlier this year Geukers and De Bakker proved not only to be successful inventors but also promising businesswomen, when they won first prize (1500 euro) in the Writing a Business Plan course at their university.
(Photo by Flickr user net_efekt, some rights reserved)