The other 'Anne Frank' houses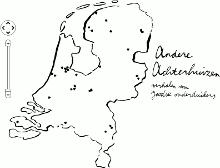 The Anne Frank House is called Het Achterhuis in Dutch, the apartment in the back, simply because that is what it was. The andereachterhuizen.nl website has collected 30 stories of other hiding places of Jewish refugees in World War II.
For instance, the story of Johan Sanders, who was separated from his parents and sisters. When he once met his sisters on the street, naturally he smiled. The other kids, not knowing the real deal, yelled that "ha ha, Johan van den Berk is in love with Lenie Vissermans."
"That had a real impact on me."
The people in these stories were hiding at one of 42 addresses. They received warmth or beatings. They were in the city or the countryside, alone or with others. They were in hiding or were not. They had to pay a lot, or nothing at all. They were treated like equals or as slaves. They were betrayed or not.
(The site is entirely in Dutch. Via Trendbeheer)
1 Comment »
[…] hid in many places across the country (in Dutch). You can also see Anne Frank on YouTube in a film fragment, the only time ever apparently. As well, […]

Pingback by 24 oranges » Anne Frank died earlier than recorded — April 1, 2015 @ 3:23 pm