Neighbourhood cops that twitter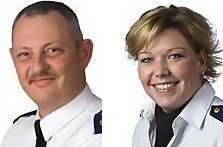 Meet Peter Smaardijk and Ilse Segers, twittering cops. These two police officers from Etten-Leur and Breda respectively have started posting about their beat from their Blackberries last week.
Together with two officers from Tilburg they will post tweets about their daily police life in order to be more accessible. The Noord Brabant police also hopes to increase its network of eyes and ears this way.
In practice, the four officers twitter both standard police announcements ("watch out for pick pockets") and their day-to-day affairs ("Spent the rest of the night writing the report."). The police recommend citizens do not to use Twitter to report a crime.
(Photo: Twitter.com / Politie Midden en West Brabant. Link: BN/De Stem.)
1 Comment »
[…] See also: Neighbourhood cops that twitter. […]

Pingback by 24 oranges » Police officer sews Twitter handle onto uniform, gets to remove it right away — July 6, 2013 @ 3:34 pm