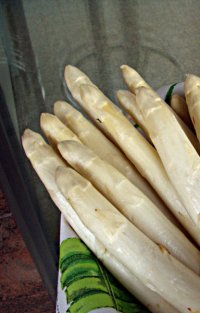 One-Michelin-star restaurant De Zwaan in Etten-Leur, Noord-Brabant likes to make a splash in spring once white asparagus season kicks off and what better way to do that than having a drone deliver the white gold to your door.
On 1st April (no joke), a drone with a 15-minute battery that needs to fly 12 minutes avoiding all kinds of buildings and bridges according to many rules will drop off a crate of asparagus at the kitchen door of the restaurant. There's a backup battery and a Plan B to land nearby if the wind is too much.
It's not the first time De Zwaan and its owner Roland Peijnenburg have marked the start of asparagus season by creating a buzz. They've also used a hot air balloon carrying the town mayor and once had an asparagus relay race.
When you mention asparagus in the Netherlands, people think white asparagus and not green asparagus first. Here's a white asparagus cocktail appetizer recipe for you as well.
(Link: www.deondernemer.nl, Photo of asparagus by Stephan Mosel, some rights reserved)
Tags: asparagus, drone, Etten-Leur, Noord-Brabant